3 Zero Waste Design Processes: BÂTAR D'ESTE's ZW Philosophy
Hello everyone, I am Stefan Teske (@batardeste) from Berlin and I am happy to get the opportunity to introduce my work as a sustainable zero waste designer on ZWDO's platform.
About Stefan's Zero Waste Design Journey
I started studying Fashion Design in Trier, Germany focusing on pattern construction. Later on, I got the opportunity to gain valuable experience in different international design studios in London and Paris. Finally, I finished my postgraduate Meisterschüler at Weißensee Kunsthochschule Berlin in Surface and Textile Design. After my diploma degree I started working as a pattern lecture assistant with an experienced Japanese pattern teacher from Bunka College Tokyo in Berlin. I learnt many different systems and methods of pattern construction. Currently I am the founder and creative director of my design studio BÂTAR D'ESTE.
The topic of sustainability has accompanied me since the beginning of my studies. Hesitant to cut worthy/valuable beautiful materials which I purchased for projects, I often tried to find alternative ways of garment making. I have been interested in historical things from serious Archeology to comics like Asterix and Obelix since childhood. Starting from a simple garment wrapping method I found many alternative ways of pattern cutting during research of ancient and ethical historical cultures.
My journey of creating patterns with a zero waste philosophy started by simply following my instinct: my way of working was a trial-and-error process. This concept is very old as fabrics were a luxury in former times so everything had to be used without waste. One of my favorite principles is from Japanese cultural history: the cultural-philosophical concepts of Wabi-Sabi, Mottainai, Boro Boro, Sashiko.
My submitted Meisterschüler-Thesis in 2018 titled '[MEMORIⒶVENIR]: learning past - creating future' deals with this topic of sustainable textile processing both retrospectively and looking ahead. My collection and written philosophical manifesto formed the basis for the official founding of my design studio.
In 2021 I was promoted by the Scottish @harristweedauthority as one of five design studios/brands. I focus on the handwoven crafted fabric for my jackets, coats and accessories. I translate the traditional HARRIS TWEED® into edgy, modern, contemporary designs and at the same time work it out with a zero waste approach.
As the shapes of ZW garments 'follow their own rules', the shapes often behave quite differently from the classic traditional tailored men's suit. My best-selling coats are Wistman and Ihwa, mostly ordered by women.
To move fashion processes towards ZWD, I believe customers need time to get used to it, but I am optimistic it will eventually work. A change is urgently needed so that the holistic environment (which contains the textile and fashion industry), the working people, the customer, and nature will become more highly valued.
3 Processes Behind the ZW Designs
1. Wistman coat
My working process has different starting points - I always follow my playful instinct. I check the woven width of the fabric, the pattern, the fibre, the texture, the weight, the bias behaviour etc. Then I sit at the table with paper, pencil, ruler, scissors and tape and start to tinker with shapes, forms, and silhouettes. In this process I work out scaled miniature paper or canvas models like platonic solids (you know, from mathematics lesson at school!). Then I jigsaw the created shape into the given fabric measurements, as done on the Wistman coat. This is like those ancient Chinese wood tangram puzzles. Below you can see the final cutting puzzle in steps, after I made a few corrections of the final coat.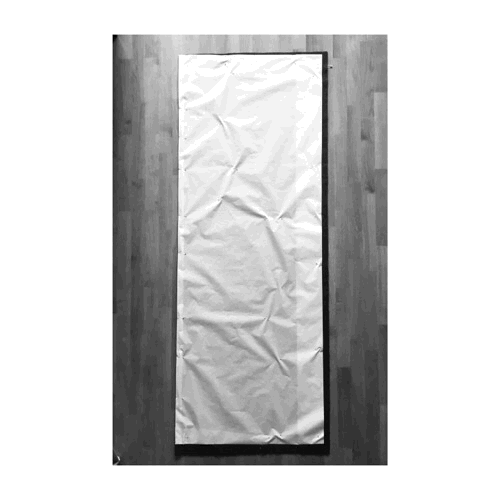 2. Torguish jacket, and Ihwa coat
Ihwa coat
IHWA coat
The pattern of the unisex one size coat IHWA is the result of historical research and my own modern translation.
The silhouette comes from the historical garment called a 'sagum', an ancient Roman coat made from a woollen rectangle just held in place by an ancient fibula, which is just a predecessor of a pin. The sagum itself was just a coat of the ancient Roman soldiers. For example "to take on the sagum", meant "to go into battle".
As I mentioned my interest for historical costumes, pattern solutions and crafting garments led me that way, so I tried to mix the concept of this zero-waste approach into a very modern contemporary garment.
Here you can see an excerpt of my sketchbook, where I was playing around a bit with basic geometrical cylindrical shapes. I just added sleeves.
I also mixed it with a very interesting historical element I found… from womenswear! In womenswear the practical elements are often hidden. As seen in the book: 'Historical fashion in detail' (photo), 'Patterns of Fashion' by Janet Arnold, 'The Cut of Women's/Men's Clothes' by Norah Waugh, or other similar sources.
In my research I found out many historical womenswear garments used hidden strips, tapes or buttons to keep things in place or to adjust their fitting. Therefore, I added a saddle piece to keep the coat in place and to have the opportunity to adjust how to wear it like one side buttoned (closed) or both sides of the rectangular buttoned (closed) or leave it open.
Here you see a rough sketch of the pattern layout on maximum of the fabric width. The process was trial and error and again.
The basic piece of IHWA is a rectangle with sleeve holes and two sleeves with a saddle. That's it. And as in ancient times I use hand woven woollen fabric - Harris Tweed® - from Scotland to give this very traditional cloth a contemporary twist, which I missed when I was looking for a garment made of Harris Tweed®. As my manifesto or philosophical claim says: "Learning Past - Creating Future". So, the very old principle I transferred into a contemporary garment with a sustainable approach. Most of my garment names like IHWA, TORGUISH or ACHILTIBUIE are references to Scottish places I visited on the tour when I decided to make my own Harris Tweed® Designs.
TORGUISH jacket
The unisex one size jacket TORGUISH was developed from another concept, but essentially the same principle. When I was working on my Meisterschülerarbeit I was strangely fascinated by German artist Albrecht Dürer and his stitch "Melencolia I", especially the geometrical shape or body of this truncated triangular trapezohedron solid caught my attention.
I tried to create a body net using these geometric 2D to 3D fold outs made from the Platonic solids. While experimenting with this and in working on patterns for my Meisterschülerarbeit I realised patterns and body nets seem very close. It is actually such a clear and obvious similarity, I wondered why I didn't realise it sooner. And I made a few small scaled paper models of pyramids, cubes etc.
Here you see a few of those paper models I made, 2D and 3D, and still make sometimes if I follow my white rabbit.
So the first ideas for the TORGUISH jacket started from a box like pattern, from a rectangular cuboid geometric body net.
Here are a few excerpts from my sketchbook from my file with first measurements.
And same as I did on IHWA already I just added sleeve holes, which resulted in very strange conceptual playful models reminding me of Russian avant-garde-like constructivism or Italian "Tuta" design:
Now the next step to my favorite garment wasn't far anymore: Kimono. The next step was to try to create zero waste garments out of this concept. Laying out a fold plan of a cube is almost zero waste, but I wanted it much straighter and more minimal. During this creative process I remembered the historical Japanese way of pattern making like the kimono or Haori.
I thought just doing a Haori or kimono would be simple, so I challenged myself: let's try out a hybrid or chimera of eastern and western clothing. Finally, from all those influences I created a chimera of a conventional men's jacket/women's blazer and mixed it with the concept of minimalism from Japanese pattern making like kimono or Haori.
After a few prototypes and scaling measurements I was ready for the first prototype. The pattern pieces should all be rectangular and finally close to a fold out plan for cubes or solids. In the end I tried to put all pieces in the industrial fabric width of 150cm.
This was the design process and concept for TORGUISH, and below you can see the final result I have been offering for the past few years in the shop of my studio: